Far-Infrared Halotherapy
Posted on: August 8th
Have you visited our
Dry Therapeutic Salt Cave at
REVIVE
STUDIOS
?
M
any of our customers have gotten a much-needed reprieve, sitting in our comfortable zero-gravity chairs, closing their eyes, and relaxing while enjoying all of the benefits of halotherapy.
I
n case you forgot, halotherapy therapy benefits can be found here.

REVIVE STUDIOS is opening a second location in Chester, NJ, with two Halotherapy Far Infrared Booths.
What is Far-Infrared and what can I expect from these booths?
L
et me explain.
T
he radiant heat from the Far-Infrared sauna surrounds you and penetrates deep into your muscles, joints, and tissues,

increasing oxygen and circulation

.  Each sauna sits 1 to 2 people. A gentle way to

detox and relax

your mind and muscles, perfect after a long day, or just to sit quietly and calm your thoughts.
Far-Infrared Health Benefits include:
 
Weight Loss & Improved metabolism

Boosting your Immune System

Detoxification

Improving Cellulite Appearance

Easing Joint Pain & Stiffness

Fatigue & Stress reduction 
I
mproving your respiratory health by 
combining far-infrared with halotherapy, where the dry heat helps the salt to reduce congestion in the lungs and allows for better absorption of the salt particles into the bronchi and airways. Now is a good time to incorporate respiratory hygiene into your routine.
T
he far-infrared heat amplifies all of the benefits of halotherapy while providing

gentle detoxification

to your system and helping to repair your mind and muscles.
Four different options will be provided to you at our studio:
Halotherapy Only - 

Enjoy all of the benefits of halotherapy without the heat for a 20-minute session.  Breath and Detox. 

Halotherapy & Heat

85 degrees - Adding heat to your dry salt therapy will increase the efficacy of the halotherapy. 

 

Halotherapy & Far-Infrared Heat

125 degrees

 -

Enjoy

the same benefits as in the halotherapy & heat with added temperature to 115 - 125 degrees.

  

Far infrared waves penetrate into your body and activate the sweat glands.  

Far-Infrared Only

125 degrees 

- 

All the benefits of Far-Infrared therapy without the salt for 30 or 60 minutes.
But wait, that's not all.
T
hese booths allow for relaxing music to be played, aromatherapy to be used, and medical-grade chromotherapy, which emits visible spectrum colors to associate with a different bodily response.
T
hese halotherapy far-infrared booths tackle all of your senses.
SIGHT:
The changing lights of  the Medical Grade                         Chromotherapy
SOUND:
A selection of calming music
TASTE:
Salt dispersed throughout the air
TOUCH:
The warmth of the infrared heat
SMELL:
Signature essential oil blends
W
e are working hard at re-opening our doors for you to reap all of the benefits of our halotherapy and far-infrared booths! Stay tuned to our website for updates!
 
What Needs to Be Known About The Corona Virus And Salt Therapy 
Posted on: May 31
The corona virus is a lung and respiratory health issue facing the world's population.  Dry salt therapy (aka halotherapy, 'halo' is Greek for salt) has been researched for the past few decades around the world with very positive results in relieving upper and lower respiratory conditions.  In many countries, it is an approved therapeutic treatment covered by health providers.
According to
Dr. Layish, co-director of the Adult Cystic Fibrosis Program in Orlando and  medical advisor for the Salt Room Orlando and sits on the board of the Salt Therapy Association
, "It is too early to tell what impact halotherapy may have with this strain of the coronavirus, however, this coronavirus does affect the
respiratory and lung system and dry salt therapy has shown to provide symptomatic benefit such as in a clinical study we conducted that focused on patients with cystic fibrosis." 
A strong advocate for this complementary therapy, Dr. Layish often recommends his patients to the local Salt Room in Orlando, Florida
Dr. Layish, says 
"being proactive and taking care of your respiratory system is becoming more important than ever before".
  According to the Salt Therapy Association,
dry salt therapy is antimicrobial which kills some microorganisms or stops their growth.

Leo M. Tonkin, Founding Chairman of the Salt Therapy Association and CEO of SALT Chamber, says,
"Halotherapy is provided by sitting in an environment where 99.99% pure-grade sodium chloride is ground by a device called a halogenerator into micron-sized particles that are then dispersed into the room or SALT Booth® as a dry salt aerosol.  This pure dry salt aerosol is then inhaled and penetrates deep into the respiratory system as well as through the surface layers of the skin".
*As per the Salt Therapy Association article*
Exercise & Grief
Posted on: May 28th 
"Good grief!" is not just an expression Charlie Brown uses regularly; especially with the current state of affairs.

I have unfortunately found myself repeating that specific quotation a little more frequently. My two cats, Lucky and Spice, passed away within 5 days of each other. Lucky was thirteen years old, and Spice was eleven years old. They were companions with me throughout many of life's adventures and will be dearly missed.

Some of us watch the news each night and see the awful realities people are facing each day. People may have lost loved ones from Covid-19, or have been terminated or furloughed from their jobs. Small business owners are shutting their doors, homes are going into foreclosure, and working parents are juggling twenty things each hour, waiting for the next shoe to drop.

Exercise may not extinguish grief but it can play a valuable role in helping people adapt to loss or unexpected change. Physical activity releases brain chemicals such as endorphins, which help to relieve discomfort and boost our mood.

Although my studio doors may be shut, I have been doing live Facebook workouts, which helps our members and community to stay healthy and connected, but it also helps me with my social-emotional well being and overall physical health. I transform when I exercise, especially during times of loss and hardship. I leave each workout with mental clarity and feelings of strength and empowerment. I can take on new challenges with grace. It has been after a workout and warm shower that I have come up with my best ideas, like the 6-week Challenge we will be running as soon as our doors open.

What helps you in times of loss?

Exercise is a great escape and coping strategy.

It can turn "Good grief!" into a long sigh of relief. 
Exercise & Positivity
Posted on: April 27
Exercise may be the least prioritized part of your day, especially since the coronavirus has kept us mostly indoors. Our dreary New Jersey weather hasn't been cooperating either. But exercise can improve your mental outlook and physical health in significant ways. For increased wellbeing, motivate yourself with these 3 easy tips. It can make all the difference in your day!
1.
Make a date. Think of exercise as an 'important meeting' that you have scheduled with yourself. Put a notification on your phone. Make a date with yourself in your planner. Bosses don't cancel scheduled events.
Be a boss!2.
Try a mental trick. When I don't feel like exercising, I tell myself, "Ten minutes." If I don't feel like continuing after ten minutes, I know I can stop whatever exercise I'm doing. Make sure to turn on some motivating music and choose a mode of exercise that you want to do. Before you realize it, ten minutes has flown by, and you feel happier, healthier, and lighter. Usually I continue my workout until I feel satisfied.
I never regret when I exercise, only when I don't.

3. Find inspiration.
Take that walk or run around your neighborhood. Stop and smell the spring flowers. Admire your route from a new perspective. Jump on Pinterest to review motivational exercise quotations. Join Revive Studios on
Facebook
and enjoy an invigorating live workout while the studio is closed. We would love for you to work out with us!
Every day you have a choice.
You can choose to stay the same, or you can choose to make a positive change. Your body is your most
precious possession
; take care of it through exercise!
Remember, you are only one workout away from a good mood. 
   Focus Your Mind, Create New Results
(Focused Awareness)  
Posted: March 27th
Discover the benefits of Focused Awareness,  a transformative meditation practice  designed to bring you more focus, energy and creativity without stress.

When something challenging happens, how do you recover?

Resilience is the ability to bounce back after a setback.

In 4 sessions, the Focused Awareness course guides you through the fundamentals of 'resilience meditation.'

As you build resiliency skills, you will cultivate a more balanced response to life challenges. You come to see change as an opportunity for self-reflection, learning and growing.
   Focused Awareness
   sessions provide ... 

 
  Healing breathing techniques  and meditation practices to integrate your mind, body and behavior in beneficial ways (read more).

Training methods to  quiet the mental chatter  and empower you to go about your daily life in a more positive state of mind.

Personalized, small group classes held in our  therapeutic Salt Cave . Classes are suitable for all levels and open to visitors. 
   Focused Awareness   
   meditation helps you ... 
Create a calmer state of mind
 Cultivate mindfulness
Improve memory & concentration
Discover keys to deep relaxation
Let go of negative thought patterns
 Make positive changes
Lower blood pressure & heart rate
Increase lung capacity & endurance
 Build self-confidence 
Open channels to self-discovery
& self-mastery
What to Eat Before and After A Workout


Posted: February 17
As a Weight Watchers Reimagined Coach, I am often asked about eating before and after a workout. Contrary to popular belief, your body needs fuel to workout. Have you ever wondered why marathon runners "carbo-load" the day before they run?!  Your body needs something to burn.
Here are some basic 'before/after' guidelines from WebMD:
Eat CARBS BEFORE a workout  (at least 1 hour before)

Oatmeal

Peanut Butter & Jelly

Banana

Fruit & yogurt smoothie

Eat PROTEIN AFTER, to rebuild muscle 

Eggs and toast

Brown rice

Grilled chicken and veggies

Whole grain turkey wrap with avocado
For more info about eating before/after exercise check out this WebMD article.
Also, remember to drink plenty of water throughout an hour-long workout to keep your body cool and hydrated. Water helps your muscles work more efficiently during exercise, too!
By: Angie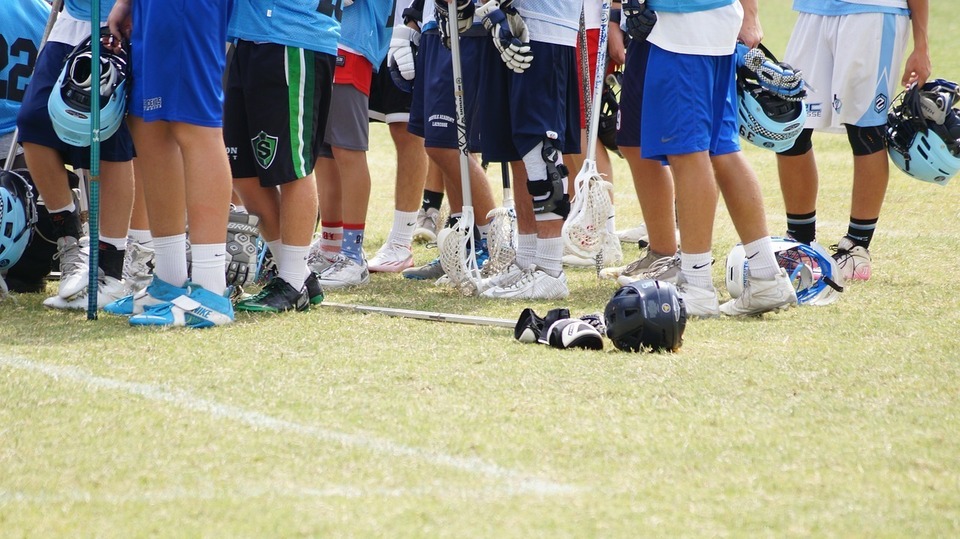 Pilates Reformer Training for Lacrosse Athletes


Posted: February 2
Up Your Game with the Pilates Reformer

Lacrosse training is not like prepping for an exam, students can't cram it in days before the season starts. Still, there is a way to level the playing field – Pilates Reformer training. Regular workouts on a Reformer can

transform key muscle groups faster and more effectively

than other exercise methods – and do it more safely, too. 
Build Key Muscle Groups
When it comes to athletic performance, core muscles are the body's powerhouse. Powerful movements launch from the center of the body out, never from the limbs alone.

The reformer trains many parts and dynamics of the body. It is particularly effective for building strength in the core, back, glutes and thigh muscles. 'Eccentric muscle contractions' are key. This is where a muscle lengthens as it resists a force. Like the long, strong muscles required for lacrosse players.

In lacrosse, core strength can make all the difference in shooting "power" and defensive checks. The versatile Reformer is a great way to work on torque and twisting power for powerful "wind-ups." It's also great for increasing leg power and endurance. 
The Amazing Reformer: How it Works 
Teens enjoy new challenges. The reformer provides ample workout options for beginners. Exercises can be done sitting, standing, lying down, pulling straps, pushing the footbar, with additional equipment – in all kinds of variations. Boring routines be gone!

The Reformer offers a combination of resistance and support for the body. Most reformer exercises involve pushing or pulling the sliding carriage that moves by way of a pulley system. The sleek equipment uses springs to add varying degrees of tension and resistance to core workouts and strength exercises.

Adjustable shoulder blocks and a footbar keep practitioners safely in place during exercises. Other reformer parts can be adjusted for differing body sizes and skill levels.

Reformer Workouts: Benefits + Safety
All athletes want to stay in the game, be injury free and improve their performance. Teens are no different. Reformer workouts can

benefit teens

in significant ways:

• Increase muscle strength
• Improve flexibility
• Build balance & endurance
• Extend greater range of motion
• Improve joint mobility
• Improve posture & body alignment
• Raise core body awareness
• Develop mind-body coordination
• Protect against muscle injuries
• Decrease back & joint pain 
Personalized Fitness Goals 

At Revive, students maximize their workouts when guided by our expert Pilates Reformer instructors. Customized fitness plans, designed by the instructor and Lacrosse Coach, help focus and motivate students to achieve their individualized goals. Our small group classes create a conducive environment for budding athletes. The perfect space to build camaraderie and team spirit.
By: Revive Studios
Top 5 Benefits of Zumba Class




Posted on: November 17

Looking for a fun and effective way to get/stay in shape? Zumba might be the way for you!  With Zumba classes, you can make your workouts fun and a social activity that gets you in shape. Here are just a few of the many benefits that taking Zumba classes can have;

Full Body Workout

Zumba makes you use all of your muscles and strengthens your core. From head and shoulder rolls to leg movements that engage your calves and ankles, it really is a full-body workout. Your Zumba class teacher will teach you the steps and will make sure you will be dancing and exercising in no time. And you can make the exercise as intense as you want. You can take it easy or use weights with Zumba Toning to make it extra challenging. Whatever you do, the Zumba dance is an exercise in disguise.

Mood Booster

With its upbeat music of around 145 bpm and it's fun and challenging dance moves, your Zumba classes are sure to turn your bad mood around and increase the odds of your return. Many people have experienced Zumba classes to be very effective motivators to go to the gym and to create exercise habits that will change your life.

Calorie Burning 

Zumba is designed for the maximum interval calorie burning effects. An average person will burn anywhere between 600 to 1000 calories per Zumba class. This is significantly more than any other workout at the gym. The class will vary between levels of intensity by both changing the speed of the music and the intensity of the exercises. And yes, just like other workouts, there is some repetition. But the beat and music will make it easier for you to see it through until the end.

Social Activity

Done with the endlessly boring repetition of your conventional workouts? Zumba classes are a fun group activity that keeps all the participants engaged. We keep each other motivated and optimistic! Dancing together can create a real connection which makes the classes even more fun the more often you join in.

Zumba is for everyone!

Music is a universal language. Zumba is for everyone that wants to give it a shot. You can use Zumba classes in whatever physical state you are. We will make sure you can keep up and have fun.

Revive Studios New Jersey

Our studios offer many different kinds of classes including Zumba. At Revive Studios we believe exercises like Zumba can make you both physically and mentally fitter. Come visit us and try one of our Zumba classes to experience all these benefits yourself!