Far-Infrared Halotherapy
Posted on: August 8th revised 2/1/22
Have you visited our
Dry Therapeutic Salt Cave at
REVIVE
STUDIOS
?
M
any of our customers have gotten a much-needed reprieve, sitting in our comfortable zero-gravity chairs, closing their eyes, and relaxing while enjoying all of the benefits of halotherapy.
I
n case you forgot, halotherapy therapy benefits can be found here.

REVIVE STUDIOS has a second location in Chester, NJ, with two Halotherapy Far Infrared Booths.
What is Far-Infrared and what can I expect from these booths?
L
et me explain.
T
he radiant heat from the Far-Infrared sauna surrounds you and penetrates deep into your muscles, joints, and tissues,

increasing oxygen and circulation

.  Each sauna sits 1 to 2 people. A gentle way to

detox and relax

your mind and muscles, perfect after a long day, or just to sit quietly and calm your thoughts.
Far-Infrared Health Benefits include:
 
Weight Loss & Improved metabolism

Boosting your Immune System

Detoxification

Improving Cellulite Appearance

Easing Joint Pain & Stiffness

Fatigue & Stress reduction 
I
mproving your respiratory health by 
combining far-infrared with halotherapy, where the dry heat helps the salt to reduce congestion in the lungs and allows for better absorption of the salt particles into the bronchi and airways. Now is a good time to incorporate respiratory hygiene into your routine.
T
he far-infrared heat amplifies all of the benefits of halotherapy while providing

gentle detoxification

to your system and helping to repair your mind and muscles.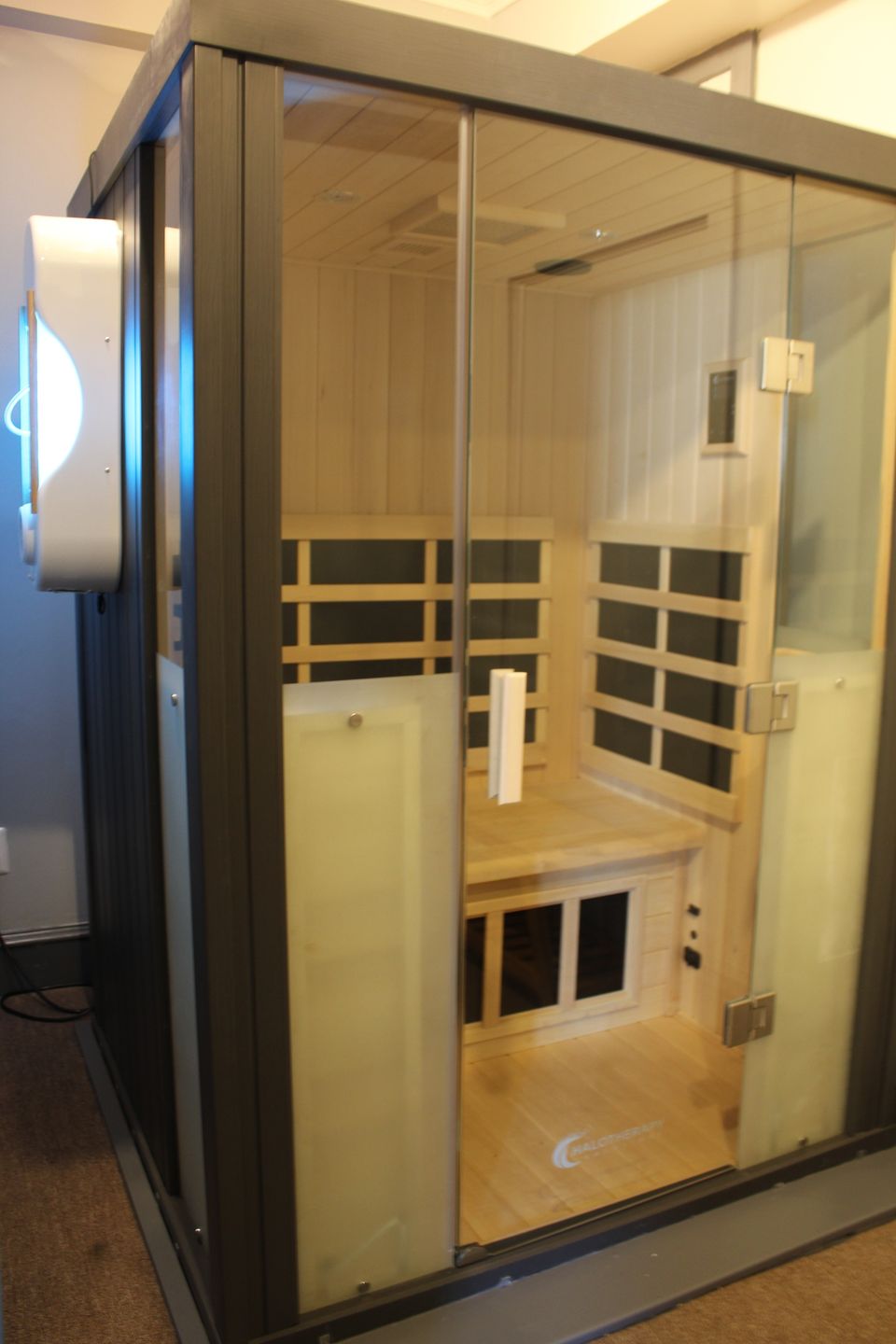 T
hese booths allow for relaxing music to be played, aromatherapy to be used, and medical-grade chromotherapy, which emits visible spectrum colors to associate with a different bodily response.
T
hese halotherapy far-infrared booths tackle all of your senses.
SIGHT:
The changing lights of  the Medical Grade                         Chromotherapy
SOUND:
A selection of calming music
TASTE:
Salt dispersed throughout the air
TOUCH:
The warmth of the infrared heat
SMELL:
Signature essential oil blends